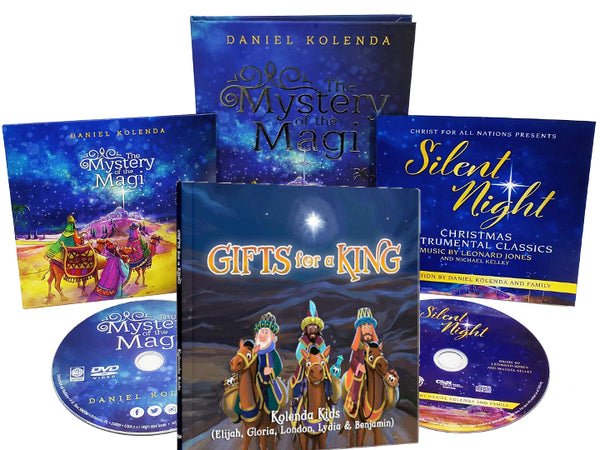 Bless your loved ones this Christmas with this Gift Set that includes the
'The Mystery of the Magi'
Book, Teaching DVD,
Gifts for a King
children's book, and
Silent Night
- Christmas Instrumental Classics CD.
In
The Mystery of the Magi
Evangelist Daniel Kolenda gives you a powerful, inspiring, and insightful teaching on the Christmas story, bringing a unique perspective to these particular participants. He explores the history and roots of the Magi, explaining their role and significance to the Christmas story. Evangelist Kolenda allows you to see this story with new eyes as he explains how God used the Magi as part of His redemptive plan.
Gifts for a King children's book:

When the baby Jesus was born in Bethlehem, wise men called "Magi" came from far away just to worship Him and give Him presents. Written for the young-at-heart, "Gifts for a King" recounts in simple, engaging language the history that led to that first Christmas and shares why Jesus was, and still is, worth seeking. 
It's a true holiday story for the whole family!
Silent Night - Christmas Instrumental Classics CD:

The Christmas season has inspired decades of memorable music. The SILENT NIGHT Christmas Instrumental Classics CD revisits some of these timeless songs in a beautiful worship and meditation style (expertly blended with compelling compositions, and refreshingly anointed instrumental presentations) featuring renowned worship leader Leonard Jones – known as "a champion of spontaneous, multi-instrumental worship music ministry".

Get ready to relive your fondest Christmas memories and create new ones! You may have heard these songs before, but you've never experienced them on such an inspired, and spiritually personal level.

This timeless treasury collection of classic inspirational Christmas favorites contains 11 of the most celebrated Christmas songs in the world.

Tracks include:

Silent Night - narration by Daniel Kolenda and family 
Oh Come All Ye Faithful - narration by Daniel Kolenda and family
God Rest Ye Merry Gentlemen
Angels We Have Heard on High
What Child is This
The First Noel
We Three Kings - narration by Daniel Kolenda and family 
Joy to the World (Medley)
Hark the Herald Angels Sing
It Came Upon a Midnight Clear
Tell It on The Mountain