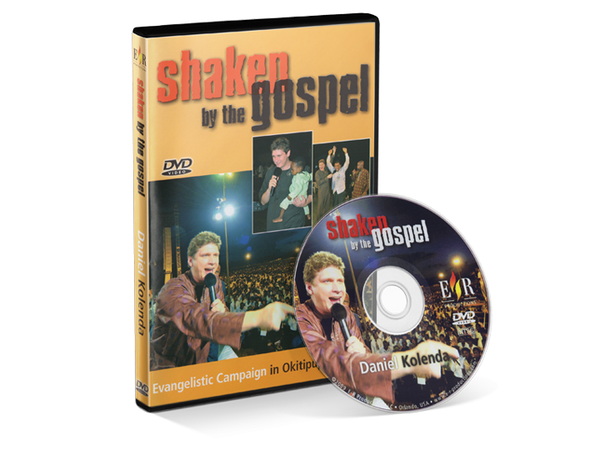 Evangelist Daniel Kolenda is a 5th generation preacher who received a calling to take the Gospel to the nations as a young boy. As a teenager, his life was radically changed after an extraordinary encounter with God's power that ignited a passionate burden for the lost. After graduating from the Brownsville Revival School of Ministry in Pensacola and Southeastern University in Lakeland, he went into church planting and pastoral ministry before launching out onto the evangelistic field.
It was at one of Reinhard Bonnke's Great African Crusades, that Daniel first saw the massive crowds of people being saved, healed and filled with the Holy Spirit. And it was there that the Lord renewed the burden in him to take the Gospel to the nations. In obedience to God's voice, Daniel launched out into full-time, evangelistic ministry through International Gospel crusades and conferences.
Daniel is now serving as President of the Christ for all Nations team. He preaches and ministers at the Gospel Crusades and Fire Conferences around the world. Daniel's ministry is marked by a powerful evangelistic anointing, with miracles following the preaching of the Word.
Evangelistic Campaign in Okitipupa, Nigeria 
From the beginning of the week's event, the Gospel rang out in clear and challenging messages, and each night the response to the call of salvation was massive. Under clear nighttime tropical skies, the people were led to the foot of the cross and committed their lives to Jesus Christ by the tens of thousands at each meeting. Thousands of trained counselors made sure that after all their details had been recorded for the church based follow-up system, every new convert received a follow-up booklet. These nightly calls to salvation resulted in 480,730 decisions for Jesus over the 5 meetings.
After the Gospel message each night, prayer was offered up for the many sick and disabled people who had come from all around to receive a touch from the Lord. Many thousands were healed and hundreds pushed forward to the platform after the prayer every night to testify about what had happened.These are truly days of unparalleled opportunity for the Kingdom of God and for any who will go out and preach the Word.