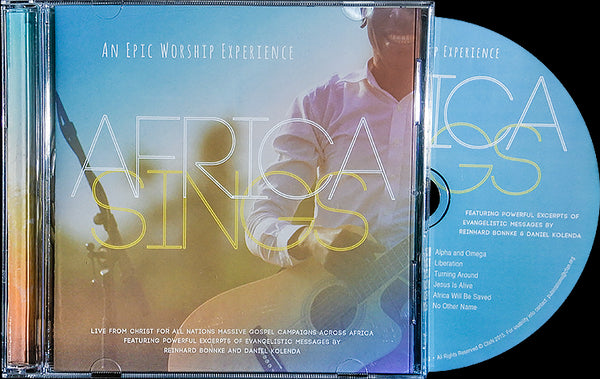 Have you ever felt the ground shake as hundreds of thousands of voices fills the atmosphere in song? Have you ever experienced the powerful sounds of real African Worship? It is an experience you will not forget. 
Recorded live at Christ for all Nations' Gospel Campaigns in Africa, let the African rhythms and melodies on this CD stir you to praise and worship in a whole new way as you listen to hundreds of thousands lifting their voices like a heavenly choir. Join your voice with the heavenly choir as Africa Sings. 
Christ for all Nations, founded by Evangelist Reinhard Bonnke and now led by Evangelist Daniel Kolenda, has been conducting large-scale Gospel Campaigns in Africa for over thirty-five years. With a mission to see 'Africa washed in the Blood of Jesus,' the ministry has taken the Gospel across the continent, drawing massive crowds of up to 1.6 million people in attendance in a single meeting.